Student journalists head to State… sort of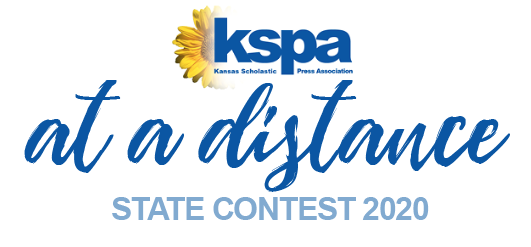 After competing at the Regional KSPA competition on Feb. 19, nine student journalists qualified for the State competition that was set to be held on May 2. However, due to COVID-19, things looked a lot different for this year's competition.
"At first I didn't even expect State to happen, so I was really happy that they had figured it out," sophomore Abby Botkin said. "It was easily accessible. I was impressed with how it turned out."
In previous years, qualified students traveled to the University of Kansas in Lawrence, and competed in two ways: testing their journalism skills on-site during designated time frames, or sending work digitally at an earlier date. Due to the shutdown of schools, the KSPA board of directors had to redesign the entire competition. 
The new method used for the competition resulted in a completely online format. On-site competitions took place from April 17-18 on the KSPA website. Digital submissions were the same entries used for the Regional competition. 
"The online format was interesting," senior and website editor-in-chief Stephanie Brozovich said. "I personally enjoy going on site to compete, but doing it online was nice without the added pressure."
Along with Botkin and Brozovich, six other students competed in this new format: seniors Annette Berntsen and Rachel Ward; juniors Brynn Andra, Natalie Drouhard and Tatum Wykes; and sophomore Cassidy Beal. 
"I think they did a good job on still providing information, but I do think that they gave me less to work with than what I did at Regionals which made it a little more difficult," Wykes said. 
On May 2, results were posted on the KSPA website and released on Twitter. Competitors were judged in groups based on school classification: 1A/2A, 3A/4A and 5A/6A. Within each category, judges could award up to the top six places. Conway competed in the 1A/2A category, and a total of five journalists placed in the top six in various categories.
Beal took first place in yearbook copy writing, Berntsen took first in headline writing and design as well as second in copy editing, Brozovich took fourth place in feature writing, Drouhard took sixth in editorial cartoon and Wykes took sixth in cutline writing. For the seniors, it was a bittersweet end to their high school journalism career. 
"My heart hurts knowing this was my last time competing," Brozovich said. "This is something I have always looked forward to each year since joining the staff. I really enjoy it and am going to really miss it."