Games worth the drive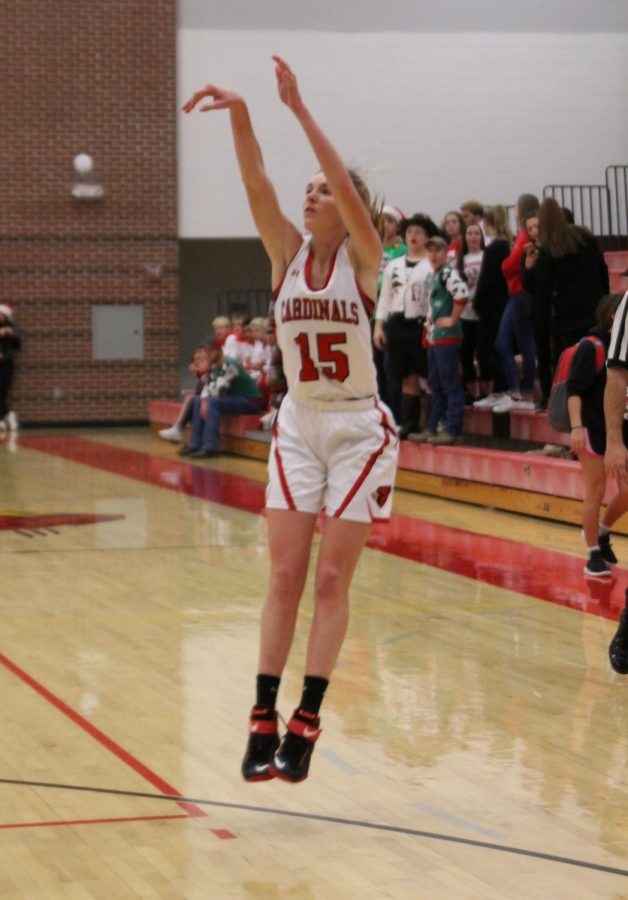 The first basketball game back from Christmas break was one for the books. The girls varsity won with the team's highest score yet, 69-38. Seniors Lexi Fisher and Kayla Koester had their high of 3-pointers this game, which helped boost the score higher than any game thus far.
"Going into Medicine Lodge, [head coach] Mr. [Pat] Carl warned us that they were still a pretty good team and would be physical and we should treat them the same way we would treat Garden Plain," Fisher said. "We were really good that night on our shots, and we just always need to feel confident going into games."
Garden Plain is the next game, Jan. 11, and the girls team is the reigning champs. Medicine Lodge, Belle Plaine and Garden Plain are all typically in the same sub-state as the Cardinals, but they will also play Medicine Lodge one more time during the regular season.
"We can pick up on what they do and prepare better for the next time we play them. Against Medicine Lodge, we played very well with passing the ball well and having fewer turnovers. This helped us get more shots off, and our percentage was pretty high throughout the game," assistant coach Justin Regehr said.
The boys also won their first game back in a nail-biter, 36-34. The lead was traded back and forth throughout the game.
Away games are always a challenge, being in someone else's element as well as sitting on a bus for a period of time and getting tired. With Medicine Lodge being a little over an hour drive, it is slightly dreaded by most players.
"Going into the game, we knew that they weren't the best team in our league but that they would be hard to beat," sophomore Heath Hilger said. "We didn't play very well. Definitely harder playing away." sophomore Heath Hilger said.