A Golden Apple of a Teacher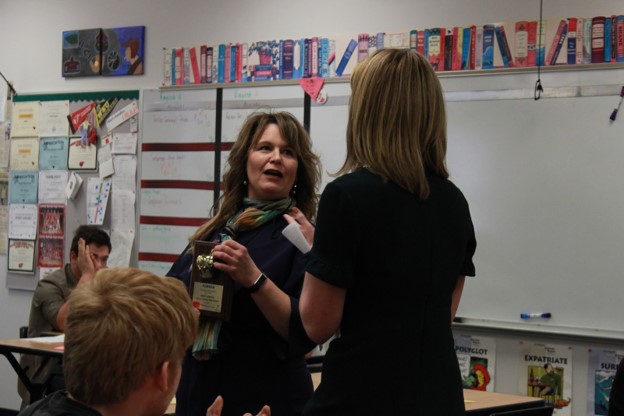 On Nov. 20 a KAKE news crew came to the high school. Teachers were told that they were here to do a story on KESA in Wichita's surrounding schools. In reality, they were here for one teacher.
English teacher Kristy Martin was nominated for The Golden Apple Award by four students from CSHS. She was presented with the award in the middle of her fourth hour class along with $1,000 worth of school supplies.
"It took me a while to figure out why they were there, and once they told me, I was in shock, because they told me it was just a cameraman then, they walked in with all these people… I was flabbergasted," Mrs. Martin said. 
Students nominated teachers who they think do great things for students in and outside of the classroom. Since its beginning in 2003, KAKE has presented more than 500 special teachers with this award.
"(I nominated her) because she genuinely cares about us," senior Adyson Koster said.
Mrs. Martin takes great pride in what she does, and this is reflected in her work with students.
"Mrs. Martin makes sure that anyone who needs help is helped and always has a caring attitude," junior Sydney Boese said.