Potential dress code changes for next year
At the request of principal Brent Harrell, nine Student Council members came together for about a month discussing dress code policies they thought should be altered. Any of the revisions to the policies would go into effect this next school year. Committee members also asked teachers about their thoughts on the dress code. 
"[I'm on the committee because] I thought that some of the dress code policies were sexist, unjust and old fashioned," sophomore Audrey Warren said. 
Some of the policies under consideration were how long shorts needed to be, rips in jeans above the knees, durags and leggings. 
"Mr. Harrell mentioned that maybe it would be time to look at the guidelines and see if any were outdated," Stuco sponsor Callie Bartelson said. "Along the way, yes, students have complained about guidelines being too strict."
The committee is now waiting for the school board's approval of their revisions to the dress code. 
"I think that a lot of our changes the kids are already wearing in school," senior Hannah Zoglmann said. "It's very subtle changes, but the drastic stuff won't get changed, so I think it'll  probably get approved."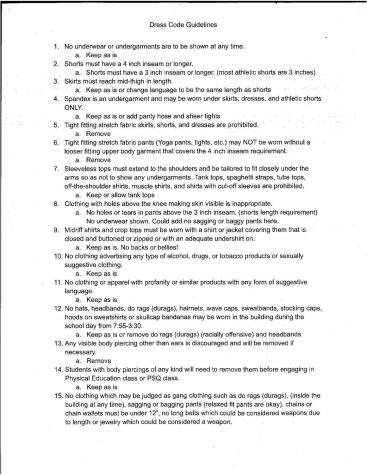 Photos contributed by Callie Bartelson