'Blonde' is beautiful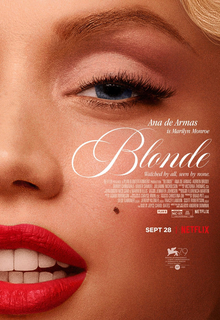 "Blonde" is a biographical film on Netflix about the tragedies of Marilyn Monroe's life. The movie showcases the horrors she went through as a child to the horrors she endured to become the most iconic actress in the 1950s. 
The movie starts off showing Norma Jean (Marilyn Monroe's birth name) as a child living with her mentally unstable mother. As a child Norma longed to figure out who her father was. Her mother lied to her and made Norma believe her father was famous actor Clark Gable. In a disturbing scene, Norma asks her mother where her father is. Her mother becomes livid and tries to drown Norma in a bathtub and tells Norma it is her fault her father is gone. After this incident, she was sent to an orphanage. For the rest of her childhood, Norma bounced around from foster home to foster home. This takes an emotional toll on her for the rest of her life. 
As a teenager, Norma was scouted by a modeling agency. This is when she is given the stage name "Marilyn Monroe". During these years, Marilyn's talent is taken advantage of by movie producers. The rest of the movie shows Marilyn becoming more mentally unstable as the years go on. She becomes dependent on drugs and alcohol to get her through the long work days. The press eventually becomes too much for her. On Aug 4, 1962, Marilyn died from a barbiturate overdose. However, many still speculate if it was an accidental overdose, suicide, or if there was any foul play involved. The movie shows Marilyn being welcomed into heaven by her father. 
I think this movie is a beautiful portrayal of Marilyn Monroe's life. I think it did a good job showcasing the traumatic parts of her childhood and showing how it affected her as an adult. On top of it being an amazing movie, it is nominated for an Oscar this year. "Blonde" is available to watch on Netflix. 
I rate this movie a 5 out of 5 cardinal heads.