Go Big or Go Home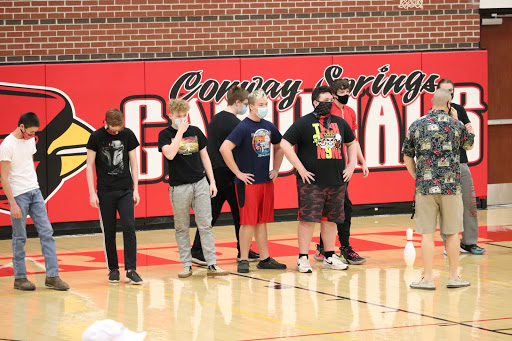 Written by Owen Balman, staff member
Posted on February 2, 2021
The winter homecoming week and the activities for it held by Stuco have begun. From Feb. 1 through Feb. 6, the homecoming week will consist of the traditional activities, such as a spirit week, a game of Castles, a wall decorating contest, a lip sync, a medallion hunt and a ceremony to go along with a dance. 
The spirit week days are Roll Out of Bed Monday, Tourist Tuesday, Western Wednesday, Meme Thursday, and Red/White Friday as usual.
"I'm looking forward to Wednesday and Friday because it's easy for everyone to go all out with themes like those," sophomore Adrienne May said. "I like the spirit week line up for this homecoming because they emphasize creativity and fun. I personally like this week better than what we had last year."
With every homecoming comes the class competitions, and the games this time around are: another wall decorating contest and a tourney-style game of Castles. The theme for this year's winter homecoming is "Go Big or Go Home," so students' walls should include art of Las Vegas, gambling, decks of cards, etc. 
"I think decorating the wall will be genuinely easy considering the theme is pretty broad and could allow us to use a lot of decorations," junior Ian Soloman said. "I also take part in Castles and usually my strategy is to sit in the back and guard the pins. It's pretty funny to see all my teammates get kicked out."
Stuco Board members went to principal Brent Harrell to discuss how to go about holding the lip sync this year. Participants in the lip sync must wear masks during their performance, and spectators must be spread out in the auditorium with their masks on the entire time as well.
"By agreeing on the social distancing terms and reasoning with the administration, we were able to hold the lip sync this year," Stuco president and senior Sadie Schmanke said. "I am confident that students will go through with the regulations put on this event so that they realize what is at stake for our school."
The week will end with the crowning after the boys varsity game against Kingman. Candidates are seniors T.K. Maforo, Aidan May, Colby Osner, Jacob Stuhlsatz, Molly Bender, Lucy Boyles, Tracy Johnsen and Tayrn Starks.
"It feels pretty good to be a candidate. I didn't think I received this much attention, but I appreciate it," Stuhlsatz said. "I wasn't at the school the day they announced the candidates, so I got confused when people started texting me saying,'"Congratulations.'"