'The Half of It' is a heartwarming movie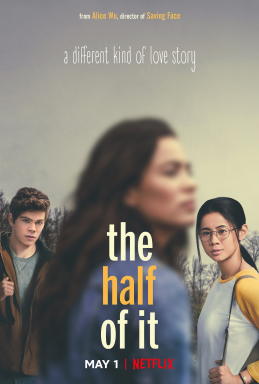 Written by Averie Stull, editor in chief
Posted on September 22, 2020
"The Half of It" is a 2020 Netflix Original coming-of-age comedy/drama film that has received very positive reviews. The setting is in a small town in Washington where a majority of the residents are religious people who believe homosexuality is a sin. Though there is some controversy surrounding the (primarily lesbian) LGBT themes in the movie, most feedback has been about the quality of the acting, and the characters. I personally enjoyed the movie and greatly appreciated the representation.
The film follows the story of a shy, introverted high school girl named Ellie Chu, who writes essays for other classmates for money. One day a football jock named Paul Munsky hires her to write love letters to his crush, Aster. While they work to help Paul woo Aster, Ellie secretly falls in love with her, and the letters and messages become more personal to Ellie. One thing Paul says in the movie that I thought was very important was, "It would suck to have to pretend to be 'not you' your whole life."
I think the movie was very well done and a true work of art. The plot and characters were heartwarming, and the scenery and camera shots were beautiful.  Though in my opinion, there was some flaw with the background characters in the school. They were all portrayed like very stereotypical bullies. Besides that, I think the rest of the movie was fantastic and definitely worth the watch. I give this film 4 out of 5 cardinal heads.