The Mysteries of "The House With a Clock in its Walls"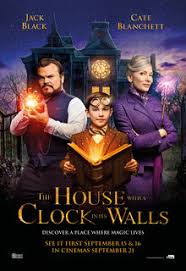 Written by Jade Leslie, staff member
Posted on October 15, 2018
The movie "The House with a Clock in its Walls" is a thriller/fantasy directed by Eli Roth. This movie was also a children's novel by John Bellairs. This movie came to theaters September 21. According to Rotten Tomatoes, this movie got a 66% on the tomatometer and a 50% audience score.
In this movie, 10-year-old Lewis moves in with his Uncle Jonathan after his parents passed away. When he arrives at the house, he notices that Jonathan has a lot of clocks on the walls. At night, he notices a strange tick-tock noise. Soon, he finds out that his Uncle is a warlock and the house is magical. At school, Lewis doesn't have any friends since he is new, but soon a boy named Toby befriends him because of his broken arm. A little time goes by, and when Toby gets his cast taken off he becomes a major jerk towards Lewis. In hopes to save his friendship with Toby, Lewis invites him to his house to show him it is magic. They find a book and end up raising an evil warlock back from the dead.
I really enjoyed this movie. I liked the way that they showed that at school not everyone is nice and sometimes the people you think are your friends aren't. It tied into many things for many different people. It was sad that Lewis' parents had died, but his uncle tried to help him the best he could, and that was really sweet.
Overall, this movie was pretty good. Because he seemed crazy yet caring, Jack Black's character was enjoyable. The movie was heartwarming, and I would definitely watch it again. I would give "The House with a Clock in its Walls" a four out of five cardinal heads.