Students prepare for new Fall Play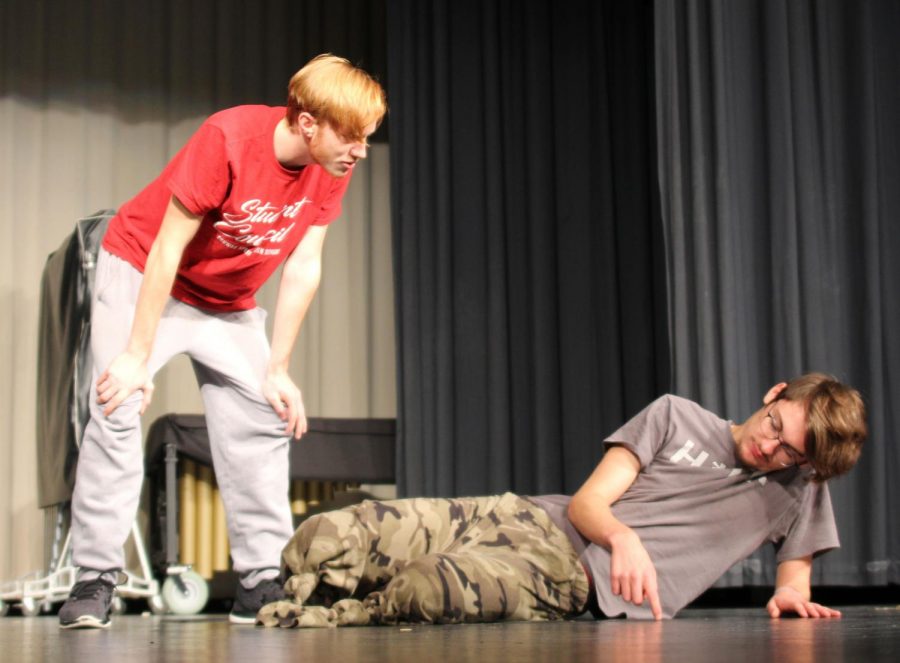 Since the spring of 2016, the drama department has performed a play for students and parents to enjoy. However, unlike past years, this year there will be two plays — one in the fall and one in the spring.
This year's fall play is titled "10 Ways to Survive the Zombie Apocalypse" and features a newscast with narrators who explain different techniques on how to survive the zombie apocalypse, which the main characters demonstrate.
"In my eyes, it's kind of like an educational video on how to survive the zombie apocalypse and 'maybe' come out alive," zombie and junior Austin Doffing said.
The play is more of a comedy than a horror, with overdramatized fear, wacky techniques that surprisingly work and an overall air of silliness about the whole thing.
There is a decent mix of returning actors and newbies. The returning actors include seniors Makenzie Curry, Audrey Doffing, Ben Doffing, and Caden Runnalls; juniors Amy Zoglmann and Annette Berntsen; and sophomores Brynn Andra and Dakota Beck. This is one of the last plays for the seniors to be a part of.
"It's kind of like playing the last game of a sport," Curry said. "You feel kind of pressured because it's the last game you'll ever play and you want to make it the best."
The newbies include senior Molly Schmanke, juniors Austin Doffing and Neal Zoglmann, and sophomore Molly Bender.
"I'm kind of nervous," Bender said, "which is why I'm glad I have a smaller part."
The play is set to take place on Nov. 16 at 7 p.m. and Nov. 17 at 8 p.m. in the high school auditorium. Tickets in advance are $2 for students and $3 for adults, and tickets at the door are $3 for students and $4 for adults, so get your tickets now at the high school office or Hired Man's.
Who? Drama department
What? "10 Ways to Survive the Zombie Apocalypse"
When? Nov. 16 and 17
Where? CSHS auditorium