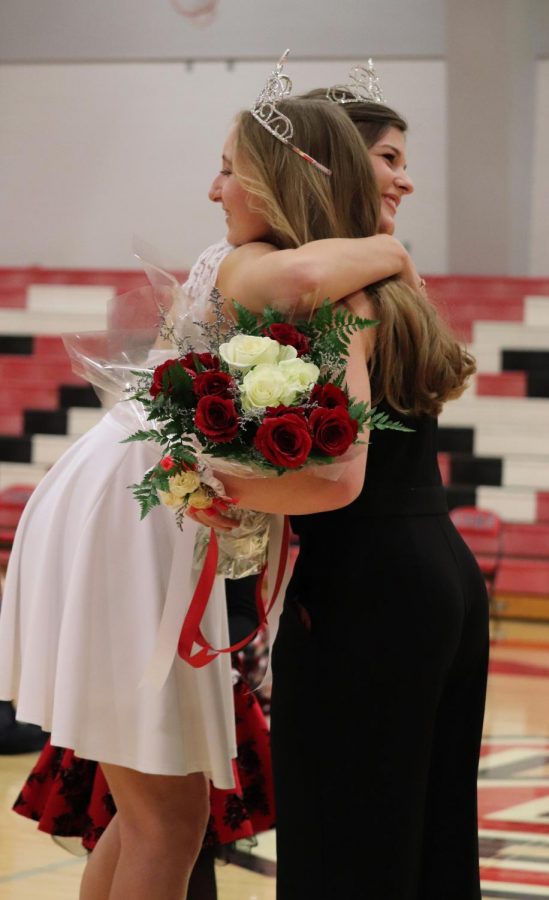 Tatum Wykes
On Feb. 5, Winter Homecoming was a go, after many setbacks and guidelines. Stuco was allowed to hold a homecoming ceremony, dance and lip sync as in past years. Students had to wear their masks at all times, and if not able to follow the rules, students would be sent to the commons or asked to leave and not able to continue with the following events. Teachers reported no issues with this, however.
"I was really excited when I heard they were continuing homecoming," freshman Mya Scott said. "I have been waiting to attend homecoming for eight years."
 This year's homecoming candidates were seniors TK Maforo, Aidan May, Colby Osner, Jacob Stuhlsatz, Molly Bender, Lucy Boyles, Tracy Johnsen, and Taryn Starks. The theme was Go Big or Go Home. The candidates walked out to the song "The Gambler" by Kenny Rogers. The homecoming king and queen were Maforo and Boyles.
"I wasn't nervous walking down, but when they called my name I got a big boost of adrenaline," Maforo said. 
A day after the ceremony, Stuco held the winter formal. The winter formal was held in the gym to help with social distancing, along with wearing masks throughout the entire dance. The dance was held from 7-8:30 pm.
"I enjoyed the dance," junior Hunter Doss said. "My favorite part was hanging out in the commons and catching up with friends."