Students compete with their academic skills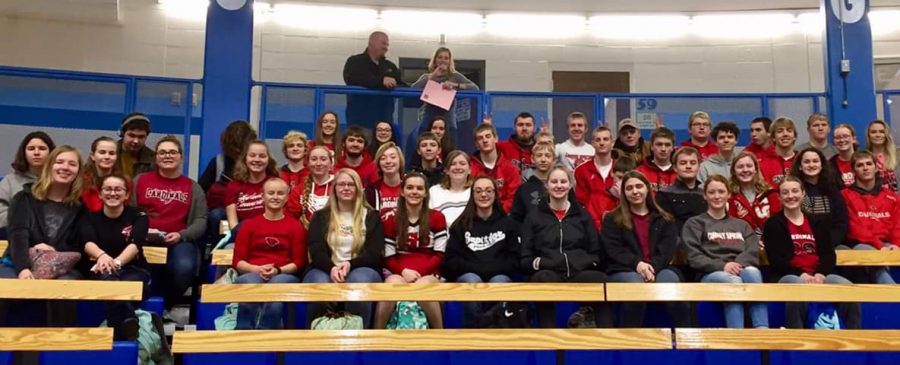 On Feb. 25, high school students had the opportunity to show off their academic skills and compete in the annual Pratt Academic Olympics. This year Conway Springs took 51 students for 40 different categories of academics. Other students who did not travel submitted carry-in works before the event.
"I thought it was going to be super stressful, but after seeing how laid back everyone else was, I didn't worry as much," junior Dawson Martin said.
For the students who traveled, the day started with meeting at the high school and leaving at 7 a.m. Once the students arrived, they were given a welcome speech by a worker from Pratt, then the first session began. After all three sessions were finished, students ate lunch, then headed back to Conway. Results for the tests were released the same day and emailed to the schools.
In addition to the competition, students could explore campus, play games at the recreation complex or walk through a car show on campus.
"I liked the car show, and it was fun getting to hang out with your friends all day," freshman Emma Zoglmann said.
This year 15 students from Conway Springs placed in their categories. Overall in the first division, Conway Springs took third place.
"I was surprised," senior Dominic Pauly said. "I didn't know any of it."
Complete placings are as follows:
senior Daniel Becker: Algebra & Trigonometry- 1st
senior Cooper Boyles: Wildlife Management- 2nd
senior Audrey Doffing: Pre-Calculus- 2nd
senior Nathan Ohl: Algebra & Trigonometry- 2nd
senior Alexis Pauly: Business Math- 1st
senior Dominic Pauly: General Business- 1st, General Science- 2nd, Sociology- 2nd
senior Molly Schmanke: Biology II- 2nd
junior Annette Berntsen: American History 1860-1960- 3st, Journalism Editorial Writing- 2nd
junior Dawson Martin: American History 1860-1960- 1st
junior Jaylee Meyer: Psychology- 3rd
junior Wyatt Schulte: Computer Science- 1st
sophomore Lakin Davis: Journalism News Writing- 1st
freshman Derek Osner: Nutrition- 3rd
freshman Lance Pauly: Biology I- 2nd