Fundraisers in February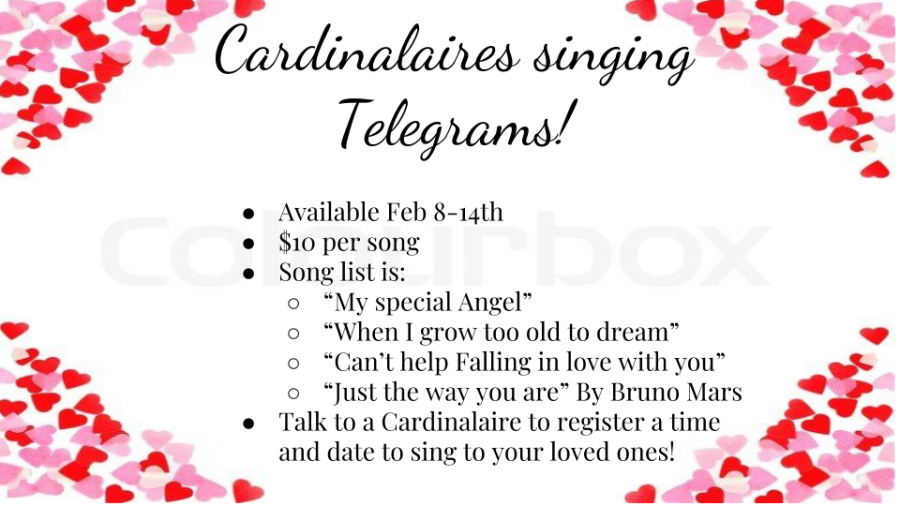 During the month of February, two fundraisers are being held. The first one is the Tupperware sales by the band, and then Singing Telegrams sold by the Cardinalaires. The Singing Telegrams are available until Feb. 14, and the Tupperware sales end Feb. 6.
The fundraising begins with Tupperware sales from the band. They are selling all kinds of products from containers to bowls to cups, and so much more. Most of the proceeds will be going towards the Florida trip in March 2020. This is the first time that the band has done this fundraiser.
"I don't think we're gonna make much, but it's a cool fundraiser. The prices seem fair though," junior Cierra Hiser said.
The Singing Telegrams fundraiser is one that the Cardinalaires do every year. They practice four different songs with the theme of love, and with a donation, they will go and sing to a person, in person or over the phone.
"I've gotten one three years in a row," principal Brent Harrell said. "My wife enjoys it, and it really brightens her day."
The Cardinalaires perform the same three songs each year, with one additional "special song." The songs that they sing every year are "You are My Special Angel," "When I Grow Too Old to Dream," and "I Can't Help Falling in Love With You," and the special song that they are singing this year is Bruno Mars's "Just the Way you Are." The recommended donation is $10 per song, and every bit of the money will go towards buying new dresses next year. The first available day to perform a song is Feb. 8, and it goes until Feb. 14.
"I enjoy them because going to people's houses is a different experience than the classroom, and [I enjoy] the smiles of the people we sing to," senior and soprano Maddie Koester said.