Students participate in CPL honor band, choir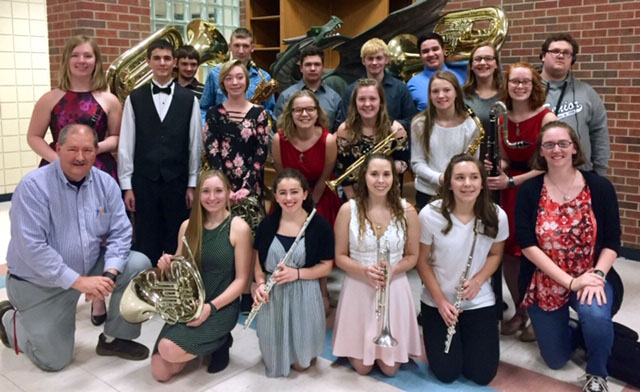 After district honor band and choir in the fall, students had the opportunity to participate in the annual Central Plains League honor band and choir Jan. 12. This year the event was held at Belle Plaine. There was more opportunity with the CPL honor band and choir, as students did not have to audition.
"It's was good experience with a different director," junior and clarinetist Michayla Buck said. The practice was more professional and focused than I'm used to."
League music directors provided the host of the event with students' names and information about past musical activities they have done. After this, the host selected certain students from each part for choir, or instrument for band. From Conway, 14 students were selected for band and four students for choir.
"[The turnout was] kinda disappointing. People don't know what they're missing out on," junior and tenor Neal Zoglmann said. "It's their loss."
For students who were selected, check in started at 8:30 a.m., and practice began at 9 a.m. Students and the guest directors practiced until their performance at 4 p.m., with breaks in between. During practice, students had the opportunity to meet new people; there's a guest director, and students sit next to other students from different schools.
"It is a memory that you're going to remember, a good memory. You get to meet new people you've never seen before," freshman and saxophonist Kenzie Wenke said.